Samsung Galaxy Z Flip 5 Review
Samsung unveiled its latest high-tech Galaxy devices at Seoul, South Korea event.
Samsung has unveiled its two new foldables, Z Flip 5 and Z Fold 5, in its Galaxy Unpacked event along with water-resistant Tab S9 Android tablets and Galaxy watches.
Samsung is the world's most preferred foldable brand with stylish and bold designs. This year, the company upgraded its most demanding category of foldable smartphones, the Z series, and unveiled Z Flip5 and Z Fold 5. Both foldables offer screens big enough for an immersive experience and allow multitasking and other benefits that give users a world-class experience.
In 2019, Samsung introduced the revolutionary category of foldable smartphones. The consumers appreciated the innovative designs. Z Flip 5 carries the tradition of novelty to a new level. It is small in size but incorporates the latest technology and features.
The commendable improvement on the Flip 5 is its ability to fold shut completely leaving no space for air gap, unlike its predecessors. This feature not only reduces the thickness of the devices but also prevents dust and water from passing through the gap. The Z Flip 5 comes with an IPX8 rating which makes Samsung the first to offer water resistance with a gapless hinge at the same time. Although there is improvement in the hinge mechanism as compared to its older sibling, those expecting an improvement in the visibility of the crease will be disappointed as there are other competitors that are offering foldable flip smartphone with nearly invisible crease.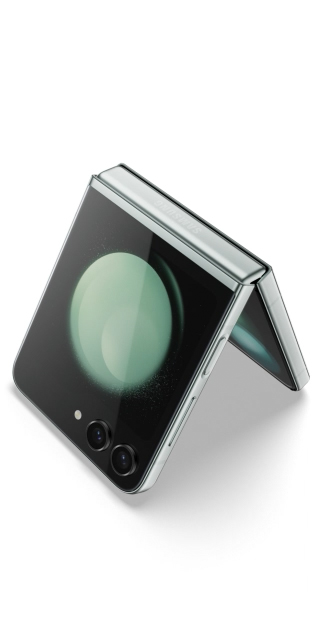 It offers a 3.4-inch cover screen which is now called Flex Window. It is the largest cover screen on a Galaxy Z Flip yet. A bigger screen helps display more information and increases productivity. Consumers won't need to flip open the phone frequently as they can perform most tasks straight from the cover screen. The display is not exactly edge to edge, due to a cutout for the cameras. The design and shape of the cover screen bear a resemblance to the Windows File Explorer icon. A bigger cover screen is the biggest selling point of Z Flip 5, but time will tell how useful the screen is.
Good news for those who need more storage from the beginning. Z Flip 5 offers 8GB of RAM with 256GB Base Storage. The latter can be doubled by paying extra. Both variants run on Qualcomm Snapdragon 8 Gen 2 for Galaxy chip. Although 128GB is enough storage for most people, if you are a content creator and need to shoot lots of 4K videos and always run out of space for more pictures, then this smartphone is the best choice.
Samsung Galaxy Z Flip 5 is powered by Snapdragon 8 Gen 2 chip. It is the most powerful processor on Galaxy foldable yet. It delivers a noticeable level of power and performance and improved heat management. With Snapdragon 8 Gen 2 chip users can experience seamless graphics, faster AI, and improved battery performance despite having the same 3,700mAh cell. Z Flip 5 runs Android 13 with OneUI 5.1.
The Galaxy Z Flip 5 comes in four standard colors: Graphite, Lavender, Mint, and, Cream. Ordering from Samsung's official website will allow you to choose from additional exclusive colors, Blue, Grey, Yellow, and, Green. Z Flip 5 might get a bespoke edition shortly that will allow users to customize the look of the handset.
Galaxy Z Flip5 is equipped with a 10MP Front Camera with a wider angle than its previous Galaxy Flip phones. It features a 12MP Ultra-Wide Camera and a 12MP Wide Camera. Super Clear Lens with adaptive VDIS delivers crisp and colorful photos, selfies, and videos. You can snap, edit, and review selfies even when the phone is closed from the Flex Window on the cover screen. The Galaxy Z Flip 5's rear cameras are equipped with AI which reduces noise and boosts quality which results in crisp photos and videos. The camera can automatically shift from wide to ultra-wide angles to capture everyone in the frame. Although the camera hardware has not changed, the company claims that image processing has improved. With the Samsung Galaxy Watch, users can experience a hands-free experience for taking pictures and making videos.
Samsung Galaxy Z Flip 5 is tested and verified to withstand 200,000 folds over 5 years of daily use. It features the zero-gap Flex Hinge, Gorilla Glass Victus 2, and IPX8 water resistance. However, Z Flip 5 is not dust-resistant and needs extra care in a dusty environment. Internal screen protection is pre-installed on Galaxy Z Products, and one-time free screen protector replacement is also available.