Instagram Announced New Features to Combat Abuse on its Platform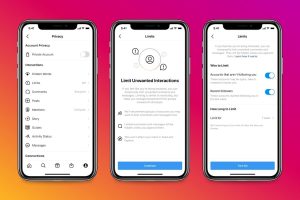 Instagram introduced a set of new features that will protect people from facing abuse on the social media giant. This response came as a reaction to the racial abuse directed towards the UK footballers after the EURO 2020 final.
Hate speech and bullying have become very common on social media networks. In a blog post, the company talks about its continued endeavor in creating Instagram as a safe place for its users. The feedback received is used to update the security features and give people more control over their experience on Instagram.
Instagram introduced Limits, a feature that can be easily turned on to overcome spike and influx of comments and DM requests. Public figures and creators can experience this more often if any of their posts go viral. If the outpouring of messages and DM requests is unwanted, they can make use of this feature to avoid such a situation.
According to the research by Instagram, hate messages usually come from people who are not followers, or recently started following you, or pour in at the moment. Creators say that they cannot turn off messages and comments completely as they want to stay connected to their community. In Such circumstances, Limits can be turned on to stay in touch with the followers while ignoring contacts that come to your account to target you. Instagram is also looking for ways where they can prompt you to turn on Limits in case of a spike in comments and DM requests. Limits feature is globally available to everyone since yesterday.
Another feature introduced is Hidden Words, which will help to fight abuse in DM requests. This feature which is designed with the help of the anti-discrimination and anti-bullying organization will help to filter out abusive words, emojis, and phrases into a hidden folder. You can also add words to the pre-defined list. If the hidden folder is opened, the abusive language will be covered unless you tap it to uncover it. You can also choose to accept the message request, delete or report it. Instagram has started rolling out this feature in several countries and is expanding it further.